About the Duvall Lantern Festival: Join in! Be the Light!

The March of the Vegetables team is holding a little celebration of light on January 13. Many people are struggling at this particular juncture in the world: the darkness, the holidays, and the vast despair that many of us feel around events that are transpiring in the world at large. This festival is a way to bring us together to create, celebrate, and remind us all that we can come together with our community to create light in the world, actually and metaphorically…
The details
On Saturday, January 13, the team is offering 4 different lantern-making opportunities from 1:30 – 5:30.

One is an adult / older teen class that will take all afternoon, and allow participants to create one beautiful star luminaria. Sign up here to take that class, which will be held at the Northwest Art Center. Artist Courtney Peters will teach the class. (There's an error in the description — you will only have time to make one lantern!)

To make a Single Bamboo Paper Star Lantern sign up here $30.00 (2-3 hour lantern project)
.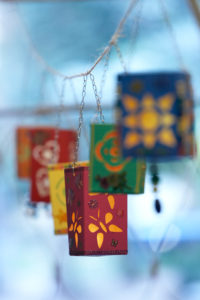 The second class allows you to choose up to two lanterns (out of three choices). Children 7 & under may make a lantern for free when accompanied by an adult. These projects are more accessible to children, families, and adults who don't have a full afternoon to devote. Paula Strobel, JoeLee Davidson and Nadja Wilson will lead these classes. These will be held at the Depot and the NW Art Center.
To make Two Smaller Simple Lanterns sign up here $20.00 (two under 1 hour lantern projects)
.
At 7:00, we will meet at the Art Center with our lanterns and process (with music!) to the Depot…
where we'll have refreshments and perhaps a bonfire (depending on weather and air quality). People are encouraged to bring their own creations to be in this little luminaria walk.
We hope you will want to be part of this magical event, and help to spread the word! It's only a month away!