Art on the Farm Summer Camp at Oxbow
August 6, 2018 @ 10:00 am

-

1:00 pm

|

Recurring Event

(See all)

One event on August 7, 2018 at 10:00 am

One event on August 8, 2018 at 10:00 am

One event on August 9, 2018 at 10:00 am

One event on August 10, 2018 at 10:00 am

$190.00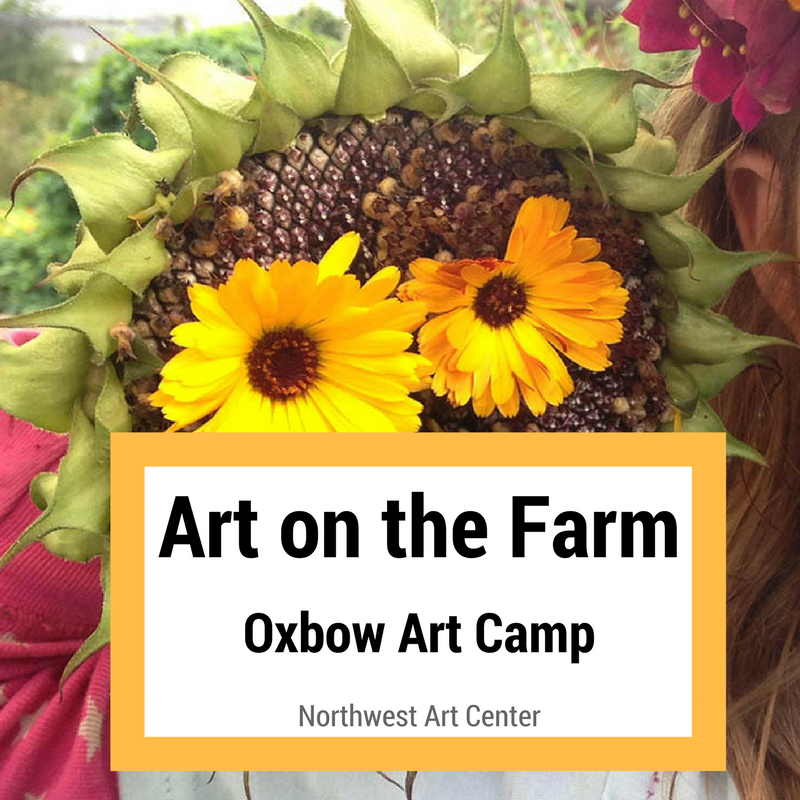 Age Range: 7 and up
Description: Come out to Oxbow Farm & Conservation Center for outdoor art. Art journaling, still life painting, making and painting with your own natural pigments, flower pressing and pounding, nature and farm observation. Enjoy nature drawing and observation on the trail and time at the Wild Spot. A day in the orchard doing fruit art projects, a hay ride, berry picking, and time in the garden. Harvest, paint and eat your own still life. Paint and hide rocks. Build fairy houses, gnome homes and more.
Instructor: Susan Jenkins, Nadja Wilson, and guest instructors from Oxbow Farm & Conservation Center
Minimum/Maximum: 4/15
Date & Time: Mon-Fri, 3 hrs a day, August 6th — August 10th, 10:00 a.m. to 1:00 p.m.
Cost: $190
NWAC Oxbow Camp Preparedness:
Northwest Art Center campers will be guests of Oxbow Farm. It will be important for us to respect the rules and policies of Oxbow Farm and Conservation Center.
Campers must come to camp every morning ready to spend their whole experience outside, rain and shine. While we have many natural nooks for shade and shelter here on the farm, we only go indoors in the event of thunder and lightning.
Here's how to be prepared each day for camp:
NOTE TO PARENTS: On Day 1, a photo ID is required when you pick up your camper. Please inform anyone who has permission to pick up your camper that they must bring a photo ID when they are picking up your camper for the first time.
Bring a towel and spare clothes, including shoes, on the first day of camp. Campers can keep these items at the farm all week and take them home on Friday. Send these items in a bag labeled with your child's name.
Dress appropriately. This means dress for the weather. Summers are getting hotter, so we do whatever we can to cool down. Sometimes we opt for getting wet and muddy, or sometimes berry juice from homemade popsicles gets on our clothes, so we encourage kids to wear clothes they don't mind getting dirty. On rainy days, rain coats and rain boots will be necessary.
Every day, bring a backpack with a morning snack, substantial lunch, reusable water bottle, sunscreen, and a sun hat. Be sure to check the weather each day! Pack extra shoes if it's going to be rainy. We want to be ready for whatever Mother Nature sends our way.
Wear close-toed shoes. We will be hiking, running over a variety of surfaces, and sometimes using Kids' Farm tools.
Reduce waste! Oxbow has a low-waste policy. Throughout the camp week, kids will learn about ways to reduce our impact on the environment. Please ensure that your child's lunch and snack come with as little waste as possible and that they are sent with a durable reusable water bottle.
Promptness:
Please do your best to be on time for drop-off 10am and pick-up 1pm.
Location for drop-off & pick up:
Directions: We are using our West Entrance for camp. NOTE: Google Maps will send you to the wrong entrance! Please use these directions to our West Entrance, or see the map below. Please drive 10 mph as a courtesy to our neighbors on this shared road.
Disclosure:
Full disclosure of your child's medical, emotional, and behavioral needs is required in order for us to create the most enjoyable, safe, and harmonious camp experience for your child and for all campers. Our capacity to work with a wide range of challenges is significant, but we can only do so when we have all of the information. Nondisclosure of medical, psychological, or behavioral challenges may result in a child being sent home from camp mid-week, without refund. This information is confidential and will only be shared with the camp staff and volunteers. Upon registering for camp, you filled out information about health and behavior for our records. Please take this opportunity to add any additional information you think is helpful for staff.
Tickets are not available as this event has passed.