Events Search and Views Navigation
What Is The Gadgeteers Club?
It is a DIY maker group run by the Duvall Maker Society and hosted by the Art Center. It's for all ages, fusing art and technology in interesting ways! People learn how to create projects and art with soldering, 3D printing, robotics, electronic engineering, steampunk and more through monthly projects and workshops. Classes are taught by volunteer members of the Duvall Maker Society and hosted at the Northwest Art Center.
Age Range: 5 with adult assistance and participation to 108
Each Gadgeteer will embark on two separate, self-innovated, 3 month projects involving various tools and materials. The goal of these projects is for each student to push their personal boundaries by combining art and technology in innovative new ways.
Gadgeteers will have the option for their projects to include: 3D printing, fine art materials, sculpting, metal cutting, electrical engineering, modeling, and much more!
Ages: Adults and Ages 5 and up recommended or younger can partner with an adult to innovate as a team. Multi-age, and varying team sizes working on an individual project are fine as well. Team members must pay individual member prices.
Gadgeteers will have 1-2 nights per month to work on their projects at the art center with assistance from Duvall Makers Society members.
Gadgeteer Club Meeting Schedule 2017-2018
Project 1: Oct – Dec
Thursday October 26th 6:30-8:30pm
Thursday November 9th 6:30-8:30pm
Thursday November 23rd 6:30-8:30pm
Thursday November 30th 6:30-8:30pm
Thursday December 7th 6:30-8:30pm
Thursday December 14th 6:30-8:30pm
Project 2: Jan – March
Thursday January 11th 6:30-8:30pm
Thursday January 25th 6:30-8:30pm
Thursday February 8th 6:30-8:30pm
Thursday February 22nd 6:30-8:30pm
Thursday March 8th 6:30-8:30pm
Thursday March 22nd 6:30-8:30pm
Young Innovators and Maker Faire Exhibit:
Gadgeteers exhibit their inventions in a free for the public viewing and interactive experience.
Date: Saturday, April 28th Note: this date is a few weekends after our last meeting in March, and spring break. But this gives us time to have a spontaneous "finish your projects" and get them ready for the exhibit club meeting if need be, before the show!
Time: TBD
COST DETAILS
$10 for current members ($60 for all 6 meetings Jan-March)
$20 a meeting for new members starting project 2 in January
$120 a project Jan – March (3 months, 6 club meetings or more)
Monthly fee: covers basic supplies, snacks, access to tools, etc.
For additional costs club members can special order kits or special supplies as needed for individual projects.
Parents asked
1) Question: What project ideas are age appropriate for my kid?
Answer: Here's some resources to start looking for projects. The first project meeting will be all about project brainstorming, creating material lists, etc.
2) Question: What time/days are club meetings?
Answer: Various Thursdays every month from 6:30-8:30pm. No early drop offs or late pick ups please. Check the schedule.
3) Question: If I partner with my kid for a project, can we pay one 3 month fee of $120?
Answer: Yes, as long as you focus together on one project, not two separate projects during 1 project period.
4) Question: Can I drop off my kid?
Answer: Yes if old enough to work independently and stay focused on their project.
5) Question: Can my kid come to just one club meeting a month?
Answer: Yes, if their project is something they can accomplish before the April exhibit.
The cost for one club meeting is $20 and should be paid on the website in advance.
Drop ins welcome, but pre-registration is recommended. Also anyone is welcome to come to any meeting. We will have a small project to try it out!
Huge thank you to Stealth Robotics team 4089 from Cedarcrest for their volunteer help!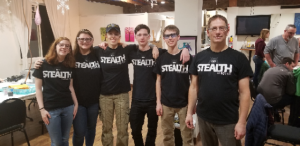 ---
A portion of this program is funded by 4Culture Tech Specific Grant.


---
Duvall Maker Society Members
Duvall Maker Society Members: Lloyd McCracken, Matt Wilson, Aidan Wilson, John Hawkins, Nadja Wilson, Alison Hawkins
No matching events listed under Gadgeteer Club. Please try viewing the full calendar for a complete list of events.