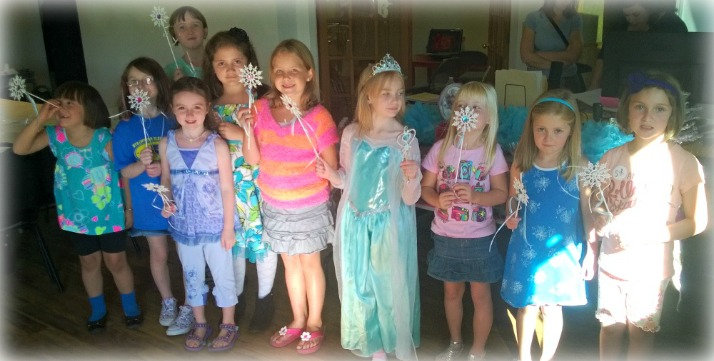 Celebrate your child's special day at NWAC! Choose from among our fun-tastic party themes to suit your child's passions.
Theme Party
Price – $225.00
2 hour rental of the Art Center for your Private Party of 10 guests. Each additional guest add $10 each (maximum 20 guests).
Additional assistant for larger parties.
1 hour guided art project with a NWAC art instructor.
All materials for art projects included. Art mediums: Water Color Painting, Acrylic Painting, Custom Craft, *Pottery Painting or *Clay (*additional costs for materials and firing)</
Special discounts on pizza delivery from Red Pepper Pizzeria.
Custom Theme Party
Price – $285.00
If your child has a specific interest or idea for a custom party theme, we can create a custom art project designed specifically for them! There may be additional cost to cover planning adn material costs for a custom art project. Contact us for more information about our custom art parties.
THEME OPTIONS
Fairy Princess
Beauty and magic will surround you on your special day. Decorate your dreams with glitter, jewels and enchanting color. Make your own "happily-ever-after."
Frozen
Create watercolor winter wonderlands and more! Let us work our winter magic for your special Frozen Birthday.
Dragons
Dragons have fired human imagination for centuries! Capture their ageless wonder with art that celebrates your favorite mythical beast.
Pirates Ahoy
Set a course for adventure on the high-seas! Discover unknown treasures, legendary sea monsters and boundless creative freedom. Bring yer whole crew. Arrrrrrrr!
The Art of Magic
Be part of an extraordinary magical tradition inspired by your favorite characters and settings of J.K. Rowling's smash "Harry Potter" series. You'll create artwork that is simply enchanting!
Hand Building Claytime
*A very special offering for those wanting a hands-on experience. Build 3-dimensional art with this transformable media, then glaze with dazzling color for eye-popping projects that will impress everyone. Costs a little extra (additional $7 per guest) but includes all firing fees.
Pottery Painting
*Party guests can choose a fun pottery piece to paint from our wide selection. Costs a little extra (additional $8 per guest) but includes all firing fees. If you book at least 2 weeks in advance we can order in themed pieces tailored just for you!
Party Deposit