Dream Vacation Raffle 2017
Thank you for joining us in supporting our mission to offer students the highest quality visual arts classes, foster expression of ideas and promote creativity in an engaging and supportive community of artists!
Our winners were announced November 4th at our event and the lucky three are

1 – Ronda Ish (Seabrook)
2 – Jodi Burick (Queen Anne)
3 – Roma Zanders (Costa Rica)
Our Dream Vacation Raffle gives you the chance to choose from three amazing experiences!
Prize Number One
A 6 night stay (you may choose a shorter stay – airfare not included) at Casita Limonada, a cozy little home with a pool in Delicias, Costa Rica, just 10 minutes from Montezuma. This is the perfect location for couples or small families looking for nature and tranquility. It is fully equipped and sleeps 4. This location is remote and not entirely easy to get to, however, you will have the assistance of Christine Tapert, the owner, to get you there and to help if you need further help getting around Costa Rica.
*Not available during Holy Week: March 31st, 2018 – April 7, 2018; June 25, 2018 – July 15, 2018; December 1st, 2018 – January 15, 2019. Airfare not included.
For more information about this amazing destination, go to AirBnB for Casa Limonada
Prize Number Two
A 2 night stay A two-night stay at THE BLUFFS on Queen Anne Hill in Seattle. It is the place you want to be in as a point of departure for your adventures in the city.
It is fully equipped and accommodates 5. http://www.onthebluffseattle.com/property/29598

*Based on availability. Only available during Winter season: November 2018 through February 2018. Not available during Holidays.
Prize Number Three
A 2 night stay at the premier beach accommodations of Solla Sollew at Seabrook, WA. Seabrook is a pristine and unspoiled stretch of coastal Washington. Seabrook offers a tranquil escape to a quaint, timeless town where everything is just a short walk or bike ride away. For more information about this amazing beach house, please visit https://www.facebook.com/SollaSollewatSeabrook/
*Based on availability. Not available during Holidays.
Tickets are only $20 each and can be purchased from any Northwest Art Center student now or from the Art Center directly – send email to info@northwestartcenter.org.
Don't miss out! We have a limited availability of tickets! Find the nearest NWAC Student to buy your raffle tickets. The students will be entered in a drawing to win a special basket for selling the most tickets.
The drawing for three winners will be Saturday November 4th during our Art in the Heart of Duvall Auction Benefit.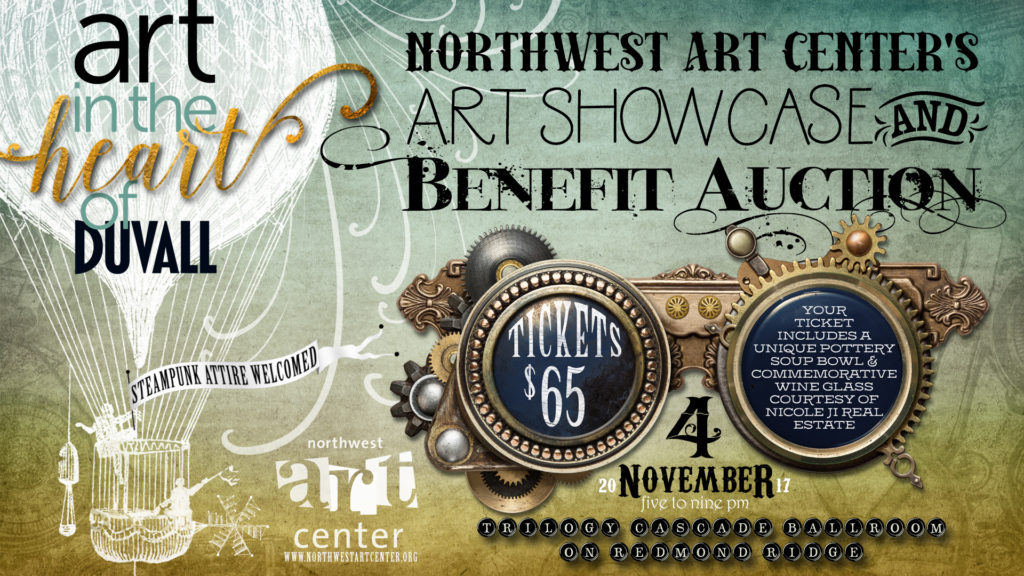 First ticket drawn gets choice of prize, second ticket drawn gets next choice, last ticket drawn gets remaining prize. Restrictions apply to each prize.
Sponsored by Nicole Ji Real Estate / An affiliate of The Irwin Group. Nicole will help you find your dream location!
All proceeds benefit The Northwest Art Center, a registered 501 (c) 3 non-profit organization. Must be 18 years or older to enter. You do not need to be present to win. All rules and restrictions apply. Tickets have no cash value and are non-refundable. No travel such as airfare is provided to or from these vacation stays.